Accueil > News > 10th European Vertebrate Pest Management Congress, Sevilla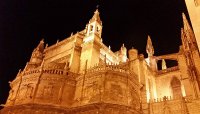 10th European Vertebrate Pest Management Congress, Sevilla
21-25 September 2015
The biennial European Vertebrate Pest Management Congress is a forum for basic and applied research in vertebrate biology and ecology, methodology and legislation and their application in wildlife management. It gathered 171 researchers from all around the world (Europe, Australia, New-Zealand, Australia, US, etc.) in Sevilla, Spain.
Patrick Giraudoux was given the opportunity to present a talk on "ecologically based management of grassland small mammals" in a session organized by Grant Singleton (International Rice Research Institute, Manilla) and Jens Jacob (Federal Research Centre for Cultivated Plants, Germany). Long term monitoring and research carried out in the ZAAJ and corresponding multisectorial partnerships were central in this presentation.
Furthermore, Mickael Sage (Wildlife - Environment - Expertise & Doctor of the University of Franche-Comté), organized a session "Consequences of control on non-target species", with Alexandra Esther (Julius Kuehn-institute, Germany). Mickael Sage is also giving lectures and practical training in the several cursus in ecology of the University of Franche-Comté. He has also presented a poster "Temporal variation of Water vole exposure to bromadiolone following the
recolonization of a treated plot" based on his doctorate results, obtained from research carried out in the ZAAJ.
Contacts:
Patrick Giraudoux
Chrono-environment, University of Franche-Comté
Mickael Sage
Wildlife - Environment - Expertise, Besançon
Read more...
Rodents and predators...
Wildlife and contaminants...